Crispy Smashed Potatoes
April 17, 2014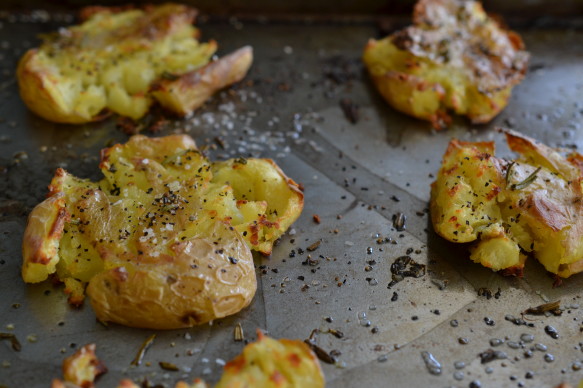 Only four ingredients for a fabulous side. Really?? These smashers have the creaminess of mashed potatoes and crispy exterior of a fry. The concept is simple….par-cook, let cool slightly and then smash until flat but still intact…about 1/2″ thick.. Use Yukon's that are approximately 2″ in diameter. Once smashed, the spuds are covered in olive oil, salt, pepper and herb of choice. (Thyme and rosemary hold up best when roasted). This is an impressive side for entertaining that can be prepared early in the day then, before dinner, popped in the oven to roast. I paired these crunchy browned spuds with grilled lamb chops and a tomato, red onion, feta, basil and mint salad. Yum.
Crispy Smashed Potatoes      (Adapted from Pioneer Women)
Serves 4-6
12 yellow Yukon potatoes (or small red)
3 Tablespoons olive oil
Salt and pepper
1 Tablespoon freshly chopped rosemary
Preheat oven to 450 degrees. Add the potatoes to a medium pot with enough salted water to cover and bring to a boil over medium-high heat. Cook until the potatoes are fork-tender, about 20 minutes (do not overcook or potatoes will not stay together). Drain and let potatoes cool until they are easy to handle. Pat very dry with paper towels. Smash each potato on a cutting board with a small glass to make it flat (or the palm of your hand).
Spread out the potatoes on a baking sheet. Drizzle with olive oil, season with salt &  pepper, chopped rosemary until evenly coated. Roast until the potatoes are crispy and golden, 20-25 minutes. Serve warm. These could also be served as a hearty appetizer…garnish with sour cream, crumbled bacon and chives.