Honey Lemon Chia Muffins
May 9, 2014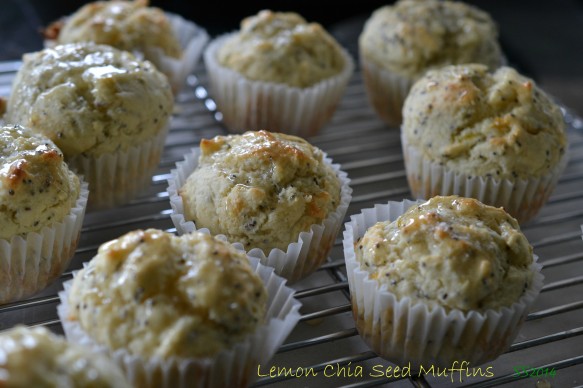 Lemon and Ricotta….fragrant and fluffy. Spring. Add poppy seeds and you have one of my favorite muffins. Ingredients like olive oil, ricotta, honey, and chia seeds make a lighter version. Chia seeds……another super-food on the block are rich in omega-3s, help reduce inflammation and cholesterol and are high in fiber and antioxidants. Give these tasty muffins a try and welcome Spring into your kitchen!!!
Honey Lemon Chia Seed Muffins     (Adapted from Cooking Light)
Makes 12 muffins
1 3/4 cups flour
¾ cup granulated sugar
2½ teaspoon baking powder
¼ teaspoon salt
¾ cup part-skim ricotta cheese
½ cup water
¼ cup olive oil
Zest of 2 lemons
2 tablespoon fresh lemon juice
1 egg
2 tablespoon. chia seeds
2 tablespoon honey, melted
Cooking spray
Preheat oven to 375 degrees. Line a 12 cup muffin pan with cupcake liners and lightly spray them with cooking spray.
In a large bowl, whisk together flour, sugar, baking powder, and salt.
In a medium bowl, mix together ricotta, water, olive oil, lemon zest, lemon juice, and egg.
Make a well in the center of the dry ingredients, pour the wet ingredients into the middle then mix. Add the chia seeds then gently fold into batter.
Evenly divide batter into prepared muffin pan.
Bake for 16 minutes or until a toothpick inserted in the middle comes out clean.
Let cool for 5 minutes then with a pastry brush, gently brush melted honey onto the tops of the muffins. Cool completely.
Store in an airtight container for up to 7 days.