Strawberry And Rhubarb Compote with Pork Tenderloin
June 14, 2014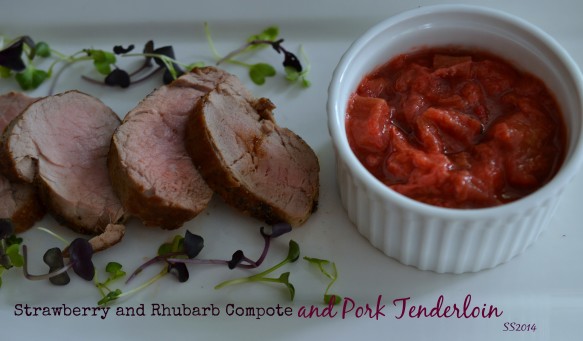 A match made in heaven. Strawberries and Rhubarb. Typically, this combination is seen on the dessert table. I like the idea of a savory dish and am pairing this seasonal side with pan seared pork tenderloin. The flavor components work well with pork (or chicken) and kumquats add a punch of citrus. This recipe yields about 2 plus cups of compote……leftovers…always a nice topping for vanilla ice cream.
Compote
Serves 6
2 cups rhubarb, cut into 1/2″ pieces
1 1/2 cups strawberries, chopped
1/4 cup apple cider vinegar
2 Tablespoons brown sugar
1 Tablespoon fresh ginger, minced
1 clove garlic, minced
1/4 cup water
1 teaspoon cinnamon
1 teaspoon cumin
1 sprig of rosemary (optional)
1 cup kumquats (about 10), cut in half OR 1 Tablespoon orange zest
2 1/2 pounds pork tenderloin (about 2 tenderloins)
Mix all ingredients (first 11) together in a medium saucepan, bring to a boil and then simmer for approximately 15 minutes until thick. (Remove rosemary sprig) Using a "smasher"…smash away!
For the pork, cover with a couple of tablespoons of olive oil and generously sprinkle with salt and pepper.
Heat 3 tablespoons olive oil in large nonstick skillet over medium-high heat. Add pork and cook until browned on all sides, about 6 minutes. Reduce heat to medium; cover and cook until instant-read thermometer inserted into center of pork registers 150°F, turning pork occasionally, about 8 minutes longer for medium tenderloins and 10 minutes for large.
Transfer pork to cutting board; let rest 5 minutes. Cut pork crosswise into 1/2-inch-thick slices; arrange on platter. Serve with Compote.
Adapted from Bon Apetit