Fire-Roasted Red Pepper Relish
July 6, 2014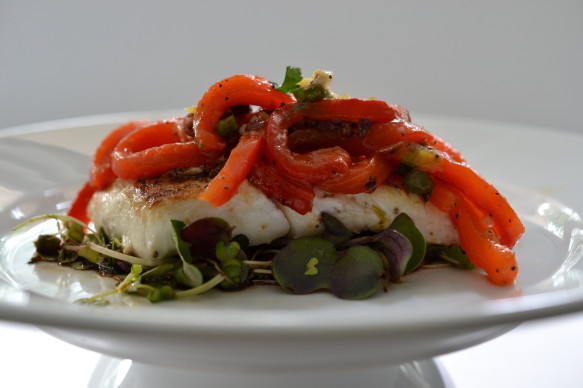 In anticipation of a bumper crop of red peppers, I have been searching for recipes….and this is a beauty! The Mediterranean overtones of this simple relish pair perfectly with a hearty white fish or grilled chicken. Serve over a bed of nutrient packed micro-greens simply dressed with a touch of balsamic vinegar and olive oil.
Pepper Relish            (Adapted from Fine Cooking)
1/4 cup pitted Kalamata olives, halved
1/4 cup flat leaf parsley, chopped
1/4 cup cilantro, rough chopped
2 tablespoons scallions, thinly sliced
2 tablespoons olive oil
1 tablespoon capers
1/2 teaspoon garlic, minced
1/2 teaspoon jalapeno, minced
Finely grated zest of 1 lemon plus a squeeze of lemon
Salt and pepper
Prepare grill. Place whole peppers on grill or cut the tops and bottoms from the peppers and cut the peppers into 3 or 4 flat pieces. Grill the pepper sides and bottoms skin side down until blistered and charred all over, 6 to 8 minutes. Put the peppers in a bowl and cover with a plate. Let sit until cool enough to handle. Peel the charred skin and discard. Cut the peppers into bite-size pieces or wide strips.
Put the pepper pieces in a medium bowl and add the remaining ingredients, stirring well and seasoning to taste with lemon juice, salt, and pepper.
The relish keeps well in the refrigerator in a sealed container for at least a week. It's best to make it a couple of hours ahead to allow the flavors to develop.