Zucchini Bread
July 28, 2014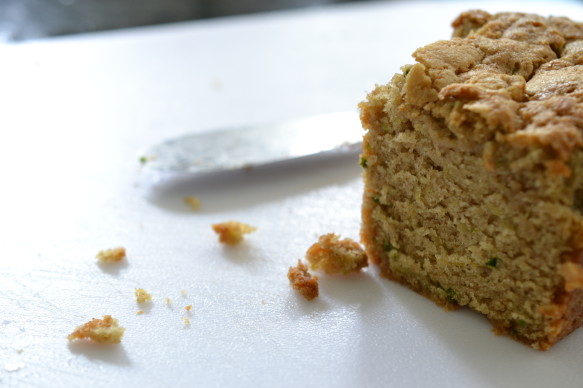 Zucchini bread probably conjures up the memories. Gram's cooking or picking zucchini in your family garden or even …well I have no zucchini bread flashbacks and this is the first time I've ever made it. It will not be the last!!. This bread has a soft and moist texture….thanks to all the shredded zucchini. It also has just the right amount of sweetness and the perfect touch of cinnamon. This recipe pulls together in about 15 minutes and is your cup of coffee's best friend.
Zucchini Bread     Adapted from All Recipes
Makes 2 loaves
3 cups all-purpose flour
1 teaspoon salt
1 teaspoon baking soda
1 teaspoon baking powder
3 teaspoons ground cinnamon
3 eggs
1 cup vegetable oil
2 1/4 cups white sugar
3 teaspoons vanilla extract
2 cups grated zucchini
1 cup chopped walnuts (optional)
Grease and flour two 8 x 4 inch pans. Preheat oven to 325 degrees. Sift flour, salt, baking powder, soda, and cinnamon together in a bowl. Beat eggs, oil vanilla, and sugar in a large bowl. Add sifted ingredients to the creamed mixture, and beat well. Stir in zucchini and nuts until well combined. Pour batter into prepared pans.
Bake for 40 to 60 minutes, or until tester inserted in the center comes out clean. Cool in pan for 20 minutes. Remove bread from pan and completely cool.