White Chicken Chili
November 15, 2014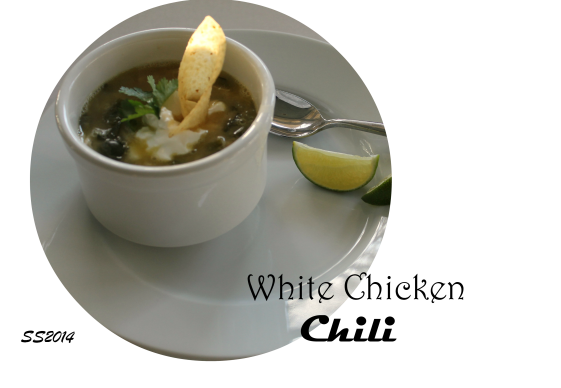 A Hearty White Chicken Chili with a spicy kick! You can never have too many chili recipes in your arsenal when the temps start to drop. This comforting one-pot meal cooks in under an hour and you have a chili that tastes like it's been cooking all day. The beauty of a chili, soup or stew is that you can improvise with whatever you have in your pantry. Corn, chopped green chilies and avocados are just a few extras you can add to make it your own.
White Chicken Chili
Serves 4-6
2 (14.5-ounce) cans white beans
1 tablespoon canola oil or olive oil
1 medium jalapeno pepper, minced
2 medium poblano peppers, chopped
1 large onion, chopped
4 garlic cloves, minced
Kosher salt and freshly ground black pepper
1 tablespoon ground cumin
1 1/2 teaspoons ground coriander
1 teaspoon ancho chili powder
4 cups low-sodium chicken broth
2 limes, juiced, plus lime wedges, for serving
1 rotisserie chicken, skin removed and meat shredded
1/4 cup chopped cilantro leaves
Sour cream, for topping
Tortilla chips, coarsely crushed, for topping
Drain and rinse the canned white beans. In a medium bowl, mash half of the beans with a potato masher until chunky. Reserve.
Add the canola oil to a large Dutch oven and heat it over medium-high heat. Add the peppers, onions, and garlic and saute until soft and fragrant, about 5 minutes. Season the vegetables with salt, and pepper, to taste. Add the cumin, coriander, and chili powder and continue to saute for 1 more minute to toast the spices. Stir in the chicken stock, and lime juice and bring to a simmer. Add the beans and continue to simmer for 20 more minutes.
After 20 minutes of simmering, taste for seasoning. (I added more cumin and chili powder for more of a kick). Stir in the shredded rotisserie chicken and cilantro and simmer until heated through, about 5 more minutes. Serve the chili in individual bowls topped with a dollop of sour cream, crushed tortilla chips, and lime wedges.
Adapted from The Neelys