Lamb Meatballs
April 19, 2015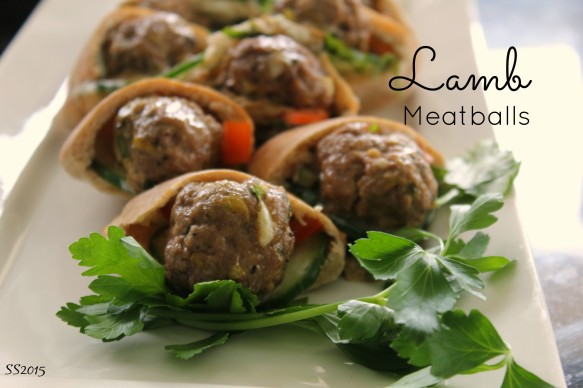 If you're a lamb lover you will appreciate these simple yet delicious meatballs. Thomas Keller's Ad Hoc At Home Cookbook celebrates his genius and "dumbs down" his often complex recipes for the home cook. The recipe calls for preserved lemons, which are a not difficult  to make, but they need to pickle for at least two weeks in the fridge before you can use them. They can be purchased at Trader Joe's or substitute with the grated zest of one lemon. Adding lemon and mint are a perfect pairing with the lamb. Serve with a tasty Greek salad as a main course or with Tzatziki sauce for appetizers.
Lamb Meatballs
2 teaspoons olive oil
1 tablespoon onion, finely chopped
1 garlic clove, finely chopped
Kosher salt and freshly ground black pepper, to taste
1/4 cup plus 2 tablespoons zucchini, finely diced
1 tablespoon cured lemons or preserved whole, finely chopped (or zest of 1 lemon)
8 ounces ground lamb
1 teaspoon dried bread crumbs (or 1 teaspoon flour)
1 egg yolk
1 tablespoon fresh mint
1. Mince the onion and garlic. Heat the olive oil in a small saute pan over medium heat. When hot, add the garlic, onion, salt and pepper, and cook until everything is soft, about 4 – 5 minutes.
2. Finely dice the zucchini and add to the pan. Cook until the zucchini is tender, about 3 – 4 minutes.
3. Remove the pan from the heat. Add the pickled lemons (or lemon zest). Scrape everything into a bowl and allow to cool to room temperature.
4. Once cool, add the lamb, egg yolk, bread crumbs and mint to the zucchini mixture. Season to taste with salt and pepper, and mix well with your hands.
5. Preheat the oven to 450°. Using damp hands, shape the mixture into 1-inch balls and place on a parchment-lined baking sheet. Bake for 12 – 15 minutes, until the meatballs are slightly browned on the outside. Serve hot or at room temperature with hummus or Tzatziki (recipe below)as a garnish.
As shown, for an appetizer….mini pitas with Tzatziki sauce, a cucumber slice, a few diced tomatoes, some chopped mint and the meatball.
Adapted from Thomas Keller, Ad Hoc At Home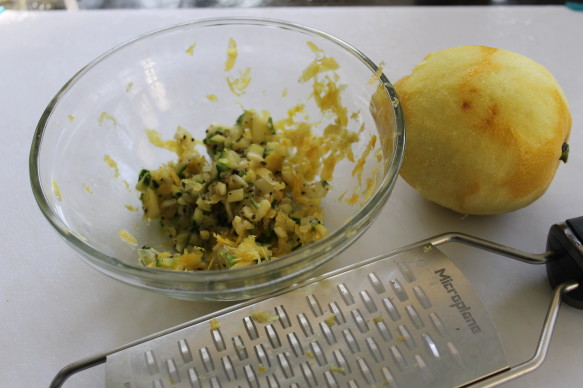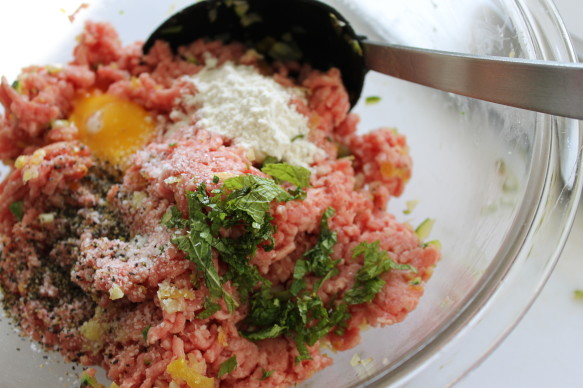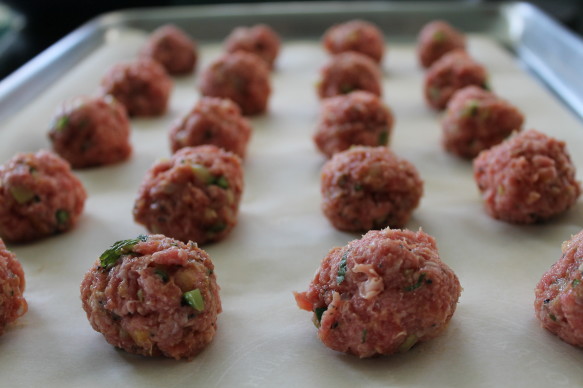 Tzatziki (Greek Yogurt and Cucumber Sauce)
(Makes about 3 1/2 cups. You can cut the recipe in half, but it's so good, you really shouldn't.)
3 cups Greek Yogurt (or regular plain yogurt)
Juice of one lemon (about 3 T)
1 garlic clove, chopped
2 medium cucumbers, seeded and diced
 1 T kosher salt for salting cucumbers
1 T finely chopped fresh mint
Kosher salt and fresh ground black pepper to taste
Peel cucumbers, then cut in half lengthwise and take a small spoon and scrape out seeds. Discard seeds. (If you use the small seedless or European cucumbers with few seeds, you can skip this step.) Slice cucumbers, then put in a colander, sprinkle on 1 T salt, and let stand for 30 minutes to draw out water. Drain well and wipe dry with paper towel.In food processor with steel blade, add cucumbers, garlic, lemon juice, mint, and a few grinds of black pepper. Process until well blended, then stir this mixture into the yogurt. Taste before adding any extra salt, then salt if needed. Place in refrigerator for at least two hours before serving so flavors can blend. (This resting time is very important.) This will keep for a few days or more in the refrigerator, but you will need to drain off any water and stir each time you use it.