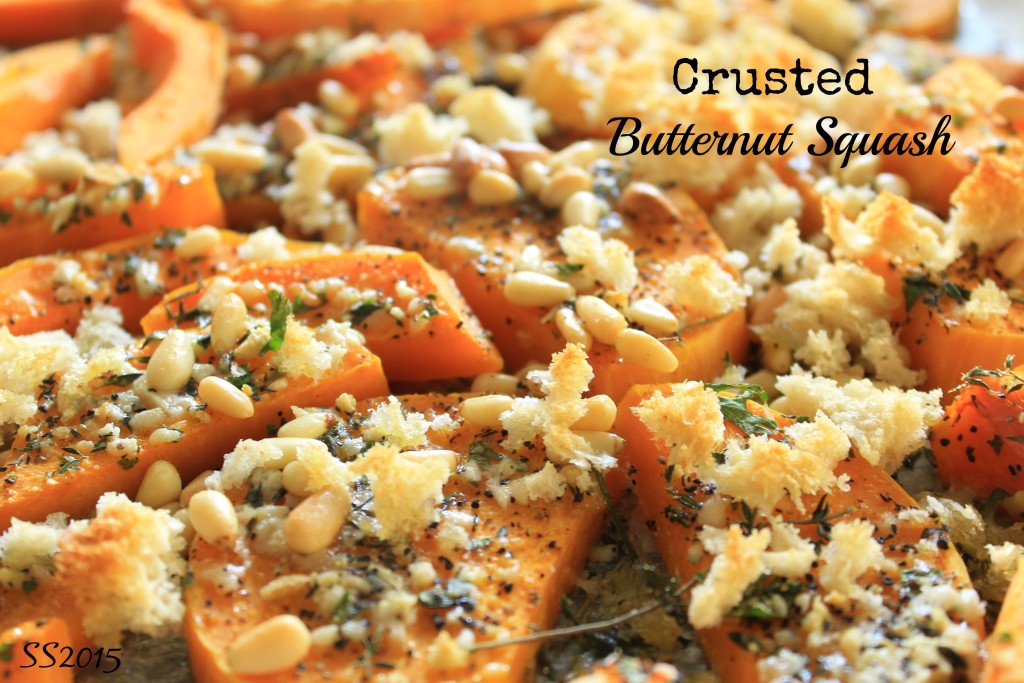 Tis the season for delicious sides bursting with Fall flavors! This vibrant recipe highlights sweet butternut squash drizzled with olive oil and tossed with bread crumbs, herbs, garlic and earthy Parmesan cheese.  The quick, easy recipe is the genius of London's Ottolenghi….he never disappoints with his perfect combinations of ingredients.
Crusted Butternut Squash
Serves 4
1 butternut squash (about 2 lbs.) (Original recipe called for pumpkin)
2 tsp. olive oil
1/2 tsp. fresh ground nutmeg
1/3 cup fresh breadcrumbs
1/2 cup grated Parmesan cheese
1 minced garlic clove
1 tbsp. finely chopped parsley
1/4 cup fresh thyme leaves
A handful of pine nuts
Salt and Pepper
Preheat oven to 400 degrees. Peel the squash with a vegetable peeler. Slice it in half length wise and discard the seeds. Cut into 1/4" slices.
Line a baking sheet with parchment paper, place the squash on sheet and drizzle with olive oil and the nutmeg.  Toss to coat. All should have a thin coat of oil, amount may vary based on size of the squash. Spread them out in a single layer (for a crunchy crust) on the baking tray (you may need to use 2 trays).
In a food processor pulse together the breadcrumbs (make sure the crumbs don't get too fine), Parmesan, garlic, both herbs, a few pinches of salt and a lot of fresh black pepper.
Sprinkle the topping on the squash. Bake for about 25-30 minutes until the tops are browned and the squash is cooked.