A Galette of Winter Greens
January 3, 2016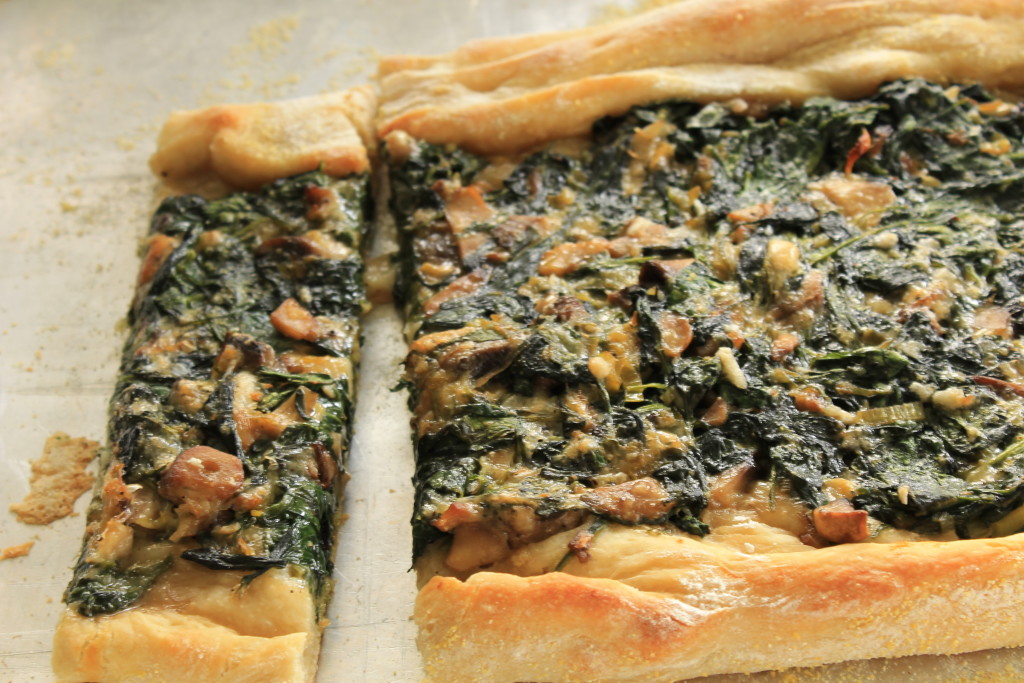 This stunning galette combines mushrooms, leeks, parmesan and 12 cups of spinach. TWELVE CUPS OF SPINACH. Delicious way to eat your greens!!  An elegant side to a tenderloin or a simple weekend lunch.
Galette of Winter Greens
CRUST 
MAKE AT LEAST AN HOUR BEFORE OR UP TO TWO DAYS BEFORE, OR BUY PRE-MADE CRUST.
1 1/2 cup all purpose flour
pinch of sea salt
5 tablespoons cold unsalted butter
6-7 tablespoons ice water
FILLING
12 packed cups spinach leaves
1/2 cup sliced leeks
3 tablespoons olive oil
sea salt
2 cups fresh wild mushrooms
1 cup grated Parmesan
1/4 cup coarsely chopped Italian parsley
Place flour and salt in a large mixing bowl and stir. Cut butter into pieces and add to the mixing bowl. Using a pastry cutter or two forks, cut butter into the flour mix. Keep mixing until the butter is reduced to pea-sized bits. Drizzle 5 tablespoons of ice water into the bowl and continue to mix ingredients with pastry cutter. Even though the mixture will still be quite crumbly at this point, squeeze some dough between your fingers and see if it holds together. You will probably need to add at least another tablespoon or two of ice water to get your dough to hold together. (Don't overwork or over-wet your dough: a nice, slightly crumbly dough with smears of butter throughout will give you a great flaky crust later.)
Place a large piece of plastic wrap and lay it on the counter next to your mixing bowl. Using your hands, gently gather the dough into a ball and place it in the center of the plastic. Wrap the ball in plastic and use the heel of your hand to flatten the dough a into a thick round. Chill the wrapped dough in the fridge for at least a hour, or up to two days.
Preheat oven to 375.
Thoroughly wash and trim spinach. If you are using baby spinach, you can keep the leaves whole. If using larger spinach leaves, chop them coarsely. Set aside.
Wash leeks, making sure to get the dirt out from between the layers. Trim off the roots and slice the whites and pale greens into thin rounds.
Heat 2 tablespoons of olive oil in a large saute pan over medium heat. Add leeks and a pinch of salt to the warm oil, cover pan and cook leeks until tender. When leeks have softened, add spinach leaves and another pinch of salt, toss them with the oil and leeks. (Add one cup of spinach at a time til wilted.) Cover and continue to cook over medium heat until spinach is tender.
Remove spinach and leeks from pan and set aside. When the greens have cooled, squeeze out any excess water that the spinach is holding on to.
Prep your mushrooms. Using a brush, wipe all the dirt off the mushrooms. Coarsely chop.
Heat a medium cast iron or saute pan over high heat. When the pan is hot, add the mushrooms. Cook for a few minutes and add 1 tbsp. olive oil and salt. Cook until mushrooms are tender, but not well-done. Set aside cooked mushrooms.
Take your chilled dough out of the fridge. Cover a cutting board with a big piece of parchment paper. Place your dough on the parchment. Sprinkle a bit of extra flour over the top of the dough and dust your rolling pin with flour. Roll out the dough into a nice large circle or oval. Slide the rolled-out galette dough (keeping it on the parchment) onto a baking sheet.
Leaving a couple of inches of dough around the edge of your rectangle/circle and sprinkle 3/4 cup of Parmesan over the the middle portion. Then add the spinach, leeks, and mushrooms. Sprinkle the remaining 1/4 cup Parmesan over the top. Fold up the edges. Place the galette in your 375 degree oven.
Baking for 35-40 minutes until your galette is golden brown. You can eat it warm or let it cool to room temperature.
Sprinkle with parsley.
Adapted from: Yummy Supper