Roasted Chicken with Tomato, Basil and Ciabatta
January 16, 2016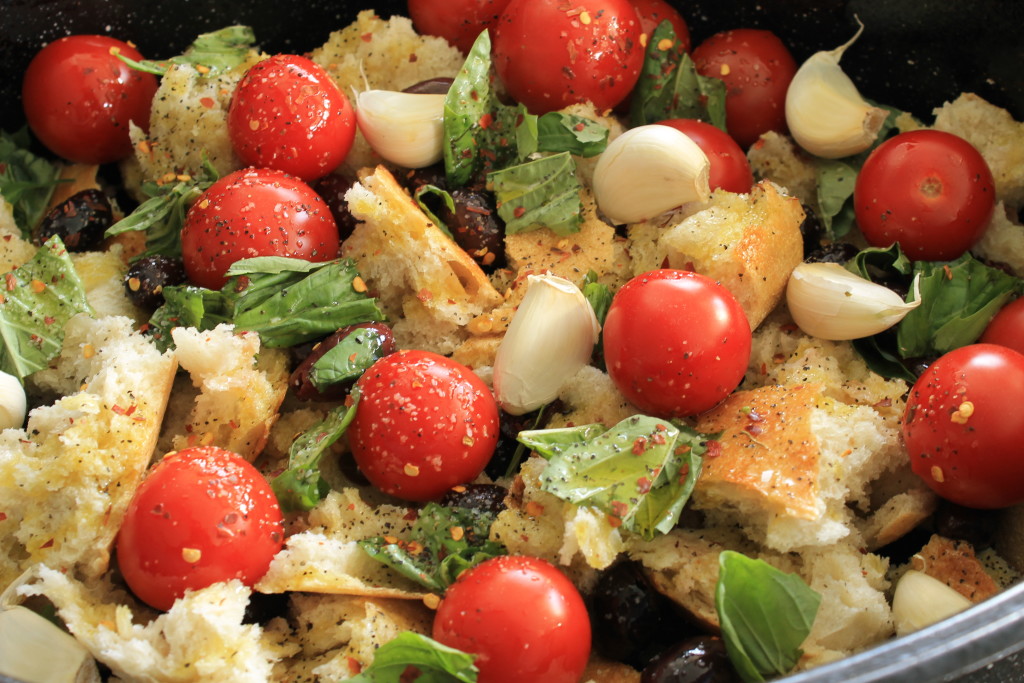 When Courtney raves and receives raves about a comfort food recipe, I listen! This recipe is simply about the layering of ingredients that LOVE hanging out together. In a large roasting pan, start with chunks of a ciabatta loaf. Then add tomatoes, olives, a whole garlic bulb, fresh basil, salt, pepper and pepper flakes. Finish with placing a cut up roaster on top and bake for an hour or so.  Something magical happens when all these yummy flavors melt together and THAT base of ciabatta soaks up all those juices, and well…..no words!
Roasted Chicken with Tomato and Basil and Ciabatta
Serves: The Whole Family!
1 ciabatta loaf
2 big handfuls of cherry tomatoes
1 big handful of the best olives you can afford
1 big garlic bulb
Fresh basil
One whole cut up fryer chicken (I have the butcher cut the fryer)
Good olive oil
Salt & pepper
Red chili flakes
8 slices of pancetta
Preheat your oven to 350 degrees. Salt and pepper the chicken. Drizzle a few tablespoons of olive oil in a pan and brown the skin side of chicken til crispy. (Just a few minutes…you don't want to cook the chicken). You can omit this step and broil the chicken in the last step of the recipe.
In a large roasting pan, tear up a ciabatta loaf and layer the bottom. Along with it goes two big handfuls of cherry tomatoes, one big handful of good quality olives and one big garlic bulb broken into cloves, skin still on.
Tear up some fresh basil and sprinkle throughout.
Pour a generous amount of good olive oil, salt & pepper, and a sprinkle of red chili flakes. Toss with your hands and then reposition chicken or on top.
Roast for 30 minutes. Remove and reposition chicken and roast another 30. Take out and place 8 slices of pancetta on top of the chicken skin and roast 15 minutes more. (For all you pancetta experts, the photo shows prosciutto on top. That's what I had on hand. You NEED to use pancetta for a smokey finish).
At this point your chicken will be cooked through. This is where you can turn the broiler on if you have not already browned the chicken. This will crisp up the chicken and pancetta.
Before serving, add a few fresh basil leaves for color.
Adapted from: A Life From Scratch