California Roll Salad
August 13, 2016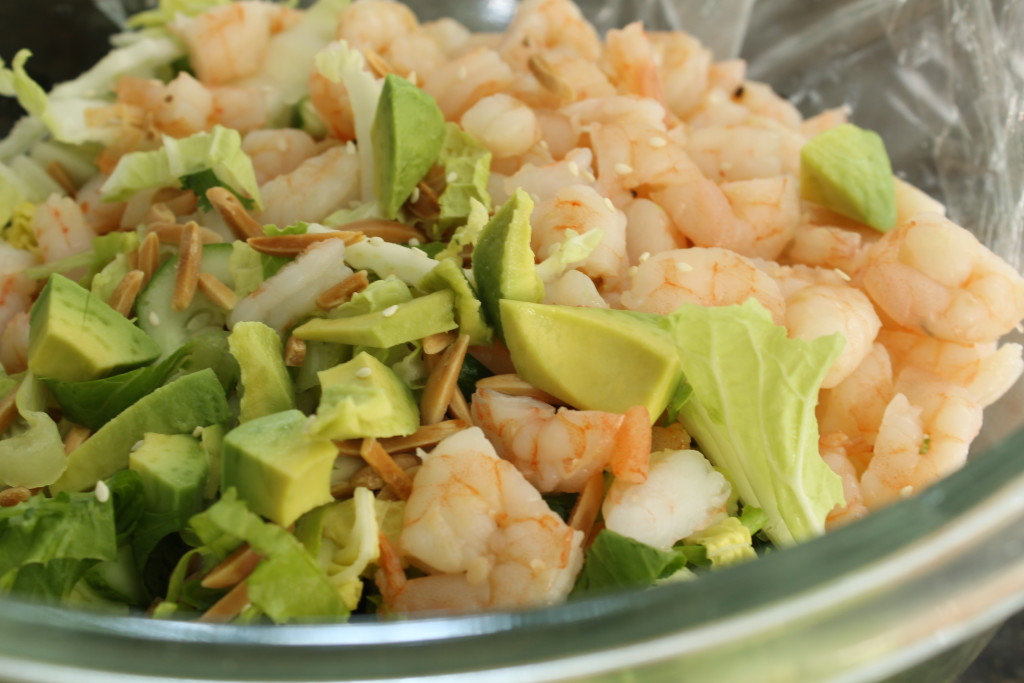 If you enjoy a good Maki roll, you will love this salad! The original recipe calls for imitation crab. Have you ever read what's in imitation crab???? YIKES!!! I chose shrimp. The dressing ties all your favorite flavors together. This recipe is very forgiving…I added more ginger, almonds and shrimp for a heartier, tastier meal.
California Roll Salad
Serves 2-3 as main course
½ head of Napa or Savoy cabbage, thinly sliced ( about 3 cups)
2 small heads of Romaine, thinly sliced ( about 3 cups)
¼ cup cilantro, chopped
2-3 Persian cucumbers, seeded and sliced into half-moons
¾ cup slivered almonds, toasted
1 pound of shrimp, cut in chunks OR 1 package (8 oz) imitation crab, cut in half horizontally and shredded
1 medium avocado, pitted and diced
Optional ingredients: 1 carrot grated, 3 tablespoons chopped pickled ginger, garnish with 1 tablespoon sesame seeds.
Dressing
¼ cup mayonnaise
scant ¼ cup rice vinegar
1 tablespoon sesame oil
1-2 tablespoons soy sauce
Mix the first seven ingredients in a large bowl.
In a separate bowl, mix the mayo, vinegar, sesame oil, and tablespoon and soy sauce until well combined. Add a bit more soy if you want it saltier. If you'd like it to be creamier, add a bit more mayo and/or sesame oil.
Pour the dressing over the salad and mix thoroughly to combine.
Adapted from: Bonaattempt