Mesa Grill's Hatch Chili Cheeseburger
August 31, 2016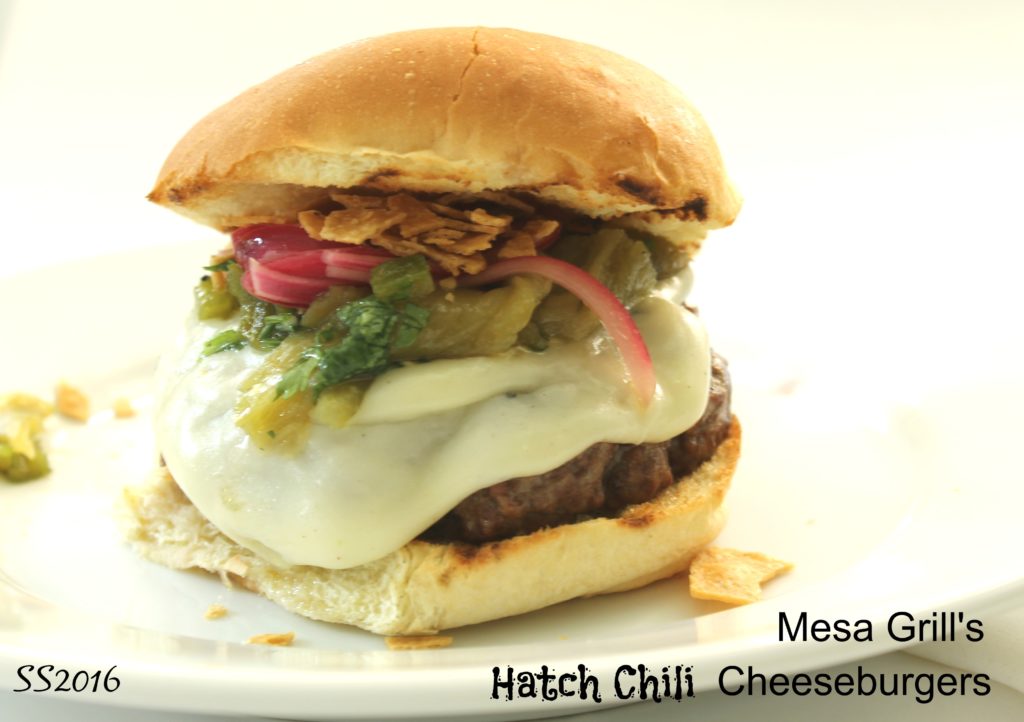 A fantastic cheeseburger to celebrate Hatch Season and a food flashback!!! After reading this recipe I was quickly reminded…I have had this burger before!! First bite put me at the dining table of Tom and Maureen a year ago. The chatter began around the table….."best burger I have ever had," X 10!!! Five essential ingredients  — a juicy hamburger, lots of cheese (queso sauce), pickled red onions, crumbled tortilla chips AND New Mexico hatch green chiles. Keep this on your top "1″ for your next BBQ.
Mesa Grill's Green Chile Cheeseburger
Serves 4
Queso Sauce
1 tablespoons unsalted butter
1 tablespoon flour
1 cup whole milk
12 ounces Chihuahua or Monterey Jack cheese, coarsely grated
¼ cup grated parmesan cheese
Salt and freshly grated pepper, to taste…needs more salt than you think
Melt the butter in a small saucepan over medium heat. Whisk in the flour and cook for 1 minute. Add the milk, increase the heat to high and cook, whisking constantly, until slightly thickened, about 5 minutes. Remove from the heat and whisk in the cheese until melted; add the parmesan and season with salt and pepper. ***Keep warm. The sauce can be quickly pulled together while the burgers are cooking. (I had success, re-heating, microwaving , slowly, until warmed and creamy.)
Green Chile Relish
1 medium poblano chile, roasted, peeled, seeded and thinly
2 Hatch chiles, roasted, peeled, seeded and thinly sliced
1 **serrano chile, roasted, peeled, seeded and thinly sliced
¼ cup red wine vinegar
1 tablespoon honey
2 tablespoons extra virgin olive oil
3 tablespoons chopped fresh cilantro
Kosher salt and freshly ground black pepper
**I used a jalepeno pepper, serrano peppers are VERY hot
Combine the poblano, Hatch, serano, vinegar, honey, olive oil and cilantro in a bowl and season with salt and pepper. Let sit at room temperature for at least 30 minutes before serving. The relish can be made 1 day in advance; bring to room temperature before serving.
Use gloves when handling peppers.
Pickled Red Onions
1½ cups red wine vinegar
¼ cup water
2 tablespoons sugar
1 tablespoon kosher salt
1 medium red onion, peeled, halved and thinly sliced
Bring vinegar, water, sugar and salt to a boil in a small saucepan. Remove from the heat and let cool for 10 minutes. Put the onions in a medium bowl, pour the vinegar over, cover and refrigerate for at least 4 hours and up to 48 hours before serving.
Burgers
1½ pounds ground beef
1 tablespoon canola oil
4 hamburger buns, split and lightly toasted
12 blue or yellow corn tortilla chips, coarsely crushed
Heat your griddle or large sauté pan over high heat. Add the oil and let heat until it begins to shimmer.
Shape the ground beef with your hands into 4 round patties about 3/4″ inches thick and season each burger on both sides with the salt and pepper. Cook the burgers until golden brown on both sides and cooked to medium, about 8 minutes.
Place the burgers on the buns and top each with a few tablespoons of the queso sauce, chiles, onion and chips.
TO GRILL: Grill 3/4″ burgers 3 minutes on the first side and 5 minutes     on the second side for medium. Let the burgers rest for a few minutes.
Adapted from: Bobby Flay….with 1st taste inspiration from "Master Burger Maker," Maureen.