Apple Pie Pancakes
October 18, 2016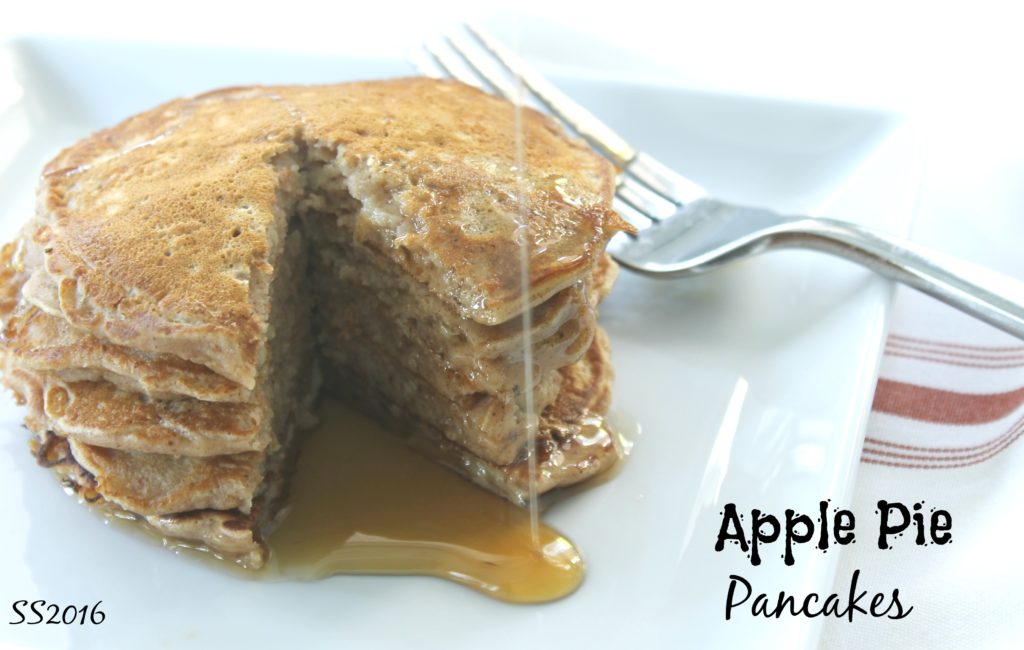 Apple Pie Season. Take advantage of those iconic flavors and create these delicious pancakes. Yep, take all the ingredients, add grated apples and you'll have your go-to autumn breakfast. I'll be replacing my traditional pumpkin pancakes with apple for the morning after this year!
Apple Pie Pancakes
Makes 7 or 8 pancakes
Dry Mix
1 cup all-purpose flour
2 tablespoons light brown sugar, packed
1 teaspoon baking powder
2 teaspoons ground cinnamon
1/2 teaspoon ground nutmeg
1/4 teaspoon ground clove
1/8 teaspoon salt
Wet Mix
1 cup whole milk
1 large egg
1 tablespoon unsalted butter, melted and cooled slightly
1 teaspoon vanilla extract
Mix
1 cup grated medium apple
Butter or vegetable oil for skillet
Vanilla Maple Syrup
1/2 cup maple syrup, warmed gently
1 teaspoon vanilla extract or the scrapings of 1 vanilla bean
I suggest adding whip cream to top.
In a medium bowl, whisk together the dry ingredients.
Use a small bowl add milk. Then add the remaining wet ingredients and mix til combined.
Add the wet ingredients to the dry ingredients, and mix until just combined. The batter will have some small to medium lumps, it's OK.
Gently fold in the grated apple.
Preheat your skillet over medium heat and brush with 1 1/2 teaspoons of butter or 1 teaspoon vegetable oil.
Using a 1/4-cup measure, scoop batter onto warm skillet. Cook for 1 to 2 minutes until small bubbles form on the surface of the pancakes, and then flip.
Reduce the heat to medium-low and cook on the opposite side for about 1 minute, or until golden brown.
Transfer cooked pancakes to a baking sheet and place in a preheated 200 degree oven to keep warm.
Repeat the process with the remaining batter, adding more butter or oil to the skilled when needed. Serve immediately.
Vanilla Maple Syrup – Stir together the syrup, vanilla, and serve over pancakes.
I like to serve these pancakes with whipped cream.
Adapted from: Averie Cooks.