Honey-Glazed Pork Tenderloin & Fennel
January 22, 2017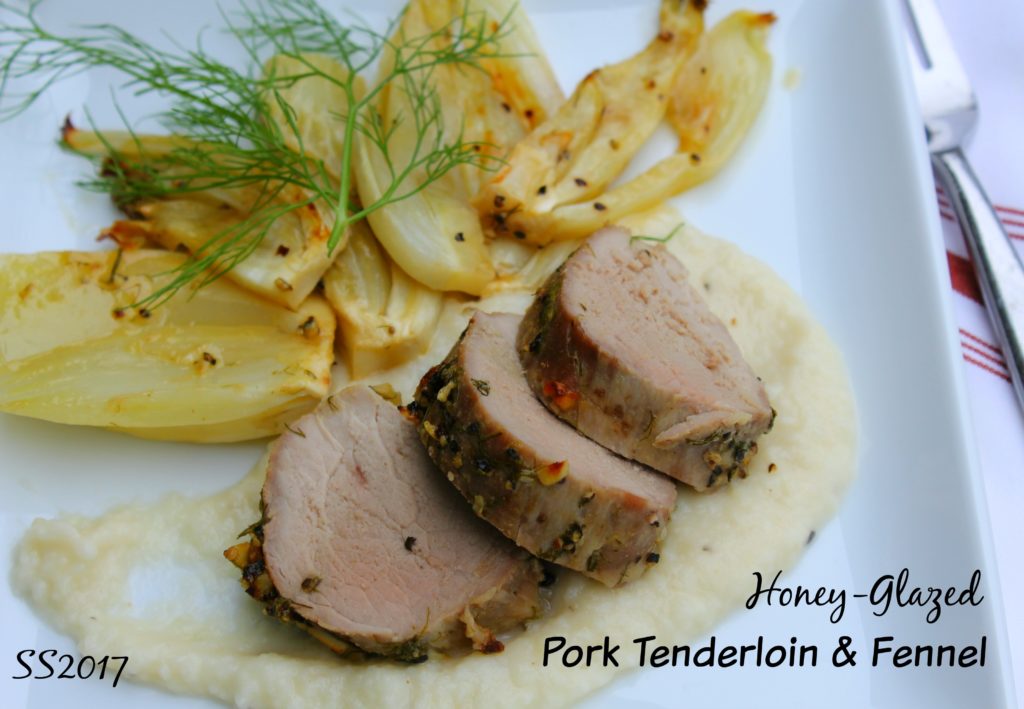 Pork and fennel are a distinctive pairing. It works. When the fennel roasts it takes on a subtle, earthy, caramelized flavor. It's an easy one (sheet) pan dinner. Celery root puree is the perfect accompaniment to this meal.
Honey-Glazed Pork Tenderloin & Fennel
Serves 4
1 1/2 Ib. (or close) pork tenderloin (have your butcher trim it up)
1/3 cup cider vinegar
1/3 cup honey
1 Tablespoon Dijon-style mustard
4 cloves garlic, coarsely chopped
2 Tablespoon extra-virgin olive oil
2 medium fennel bulbs or 1 large, trimmed into wedges, fronds reserved
Preheat oven to 425 degrees.
Line a baking pan with foil. Place the pork in pan and season with salt and pepper, both sides.
For glaze: in a small bowl whisk together vinegar, honey, mustard and garlic. Then slowly whisk in olive oil. Chop reserved fennel fronds (up to 1/2 cup) into glaze.
Pour glaze over pork. Add fennel wedges to the pan, toss glaze that collects in the pan until wedges are coated. Roast 30-35 minutes or until pork is done (145 degrees). Cover with foil and let rest for 5-10 minutes before slicing. Top with microgreens or fronds. Serve over celery root puree.
Adapted from: BHG