Blistered Snap Peas With Burrata & Mint
June 3, 2017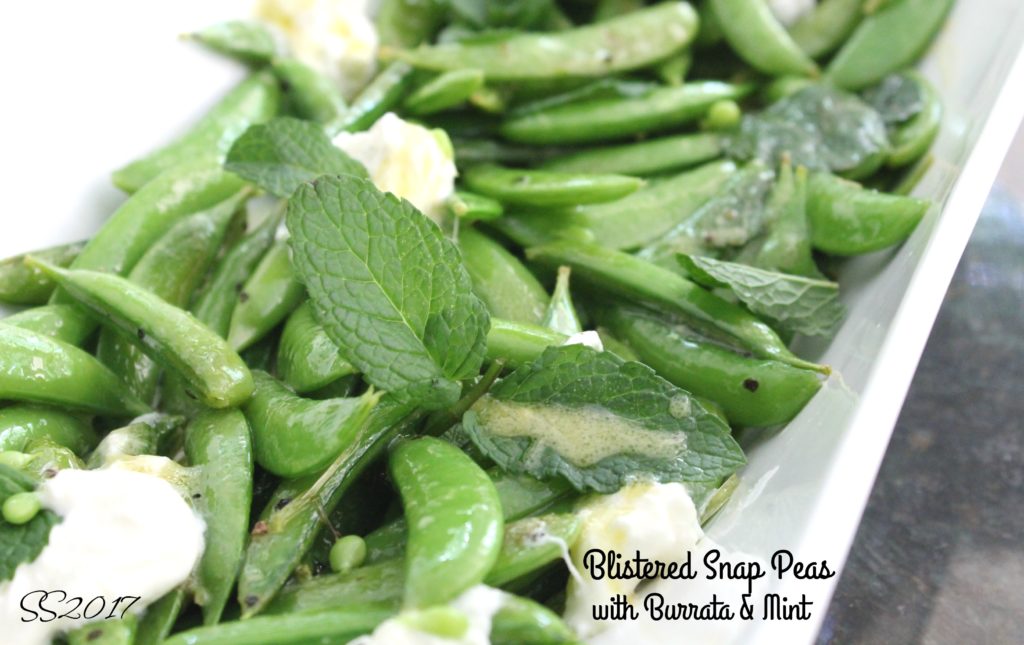 Grilled sugar snap peas drizzled with lemon dressing make the perfect summer side dish.  A quick char will brighten their sweet flavor while maintaining a crunchy texture. Combining these legumes with mint and burrata will make a meal on its own or a lovely companion to grilled fish. They were delicious off the grill but we liked them even better cold the next day. Snap peas contain a wealth of vitamins and other nutrients; fiber, carbohydrates, protein, vitamins A and C, healthy fats, iron, potassium, magnesium, folic acid and antioxidants.
Blistered Snap Peas With Burrata & Mint
4 Servings
3 tablespoons fresh lemon juice
1 teaspoon honey
1 teaspoon Dijon mustard
1/4 cup plus 1 tablespoon olive oil
1/4 teaspoon salt plus 1/2 teaspoon, divided
12 oz. snap peas, strings removed
1 cup lightly packed mint leaves
1 lb. burrata or buffalo mozzarella, cut into pieces
Lay a triple layer of heavy-duty foil over a baking rack and with a point of a scissors, poke 1/2 holes to form circles. (or use a lattice grill) Light the grill on high heat.
Whisk the lemon juice, honey, and mustard in a small bowl. gradually whisk in olive oil until combined. Season with 1/4 teaspoon salt and pepper.
In a large bowl, toss the peas with remaining 1 tablespoon olive oil and season with 1/2 teaspoon salt and pepper.
Spread the peas on the foil, grill until lightly charred, about 2 minutes. Stir until hot about 1 minute longer. Transfer the peas to a bowl and toss with mint and half of the dressing.
Arrange the peas on a platter. Spoon burrata on top of the peas and drizzle with remaining dressing.
Adapted from: Justin Chapple