Grilled Pound Cake with Balsamic-Macerated Strawberries and Basil
July 21, 2017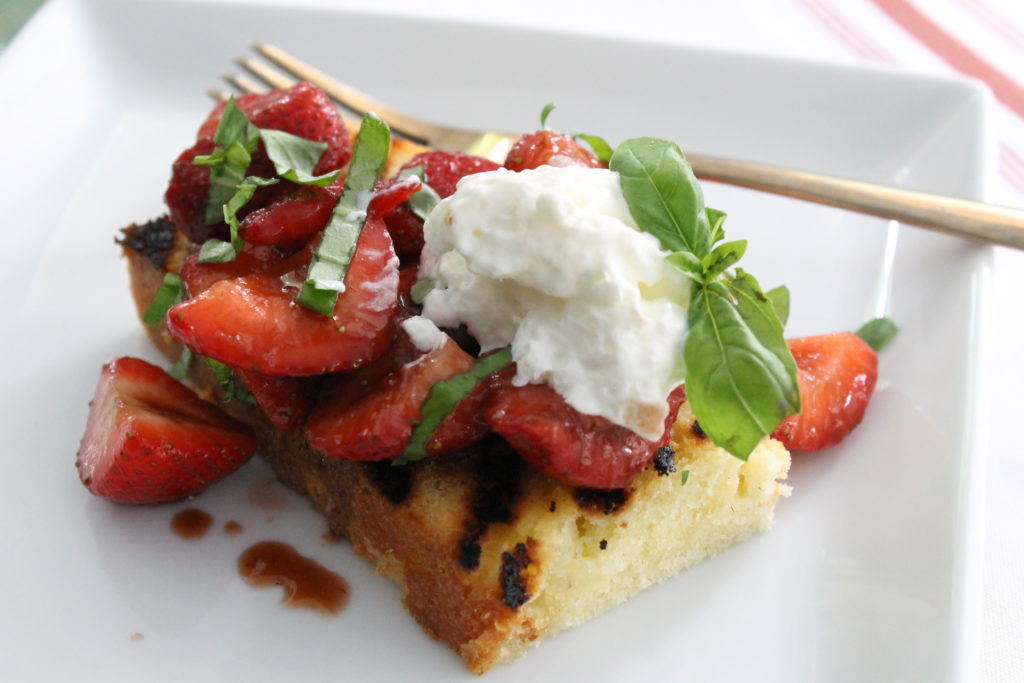 Pound cake refers to a type of cake traditionally made with a pound of flour, a pound of butter, a pound of eggs, and a pound of sugar. Yikes! The ingredients are the same but the amounts have been slightly altered. This cake is dense and makes the perfect canvas for creative toppings and glazes. In this interpretation, the cake has a bit of almond and vanilla. I sliced the cooled cake and grilled one side til grill marks appeared. This technique added a smokey note. Top with strawberries macerated in balsamic vinegar and sugar. To finish, the cake is drizzled with basil and freshly whipped cream. A perfect dessert for summer entertaining.
Perfect Pound Cake
Serves approximately 10
1 pound butter, softened
3 cups sugar
6 large eggs
4 cups all-purpose flour
3/4 cup milk
1 teaspoon almond extract
1 teaspoon vanilla extract
Preheat oven to 300 degrees.
Beat butter at medium speed with an electric mixer until creamy. (The butter will become a lighter yellow color; this is an important step, as the job of the mixer is to incorporate air into the butter so the cake will rise. It will take 1 to 7 minutes, depending on the power of your mixer.) Gradually add sugar, beating at medium speed until light and fluffy. (Again, the times will vary, and butter will turn to a fluffy white.) Add eggs, 1 at a time, beating just until yellow yolk disappears.
Add flour to creamed mixture alternately with milk, beginning and ending with flour. Beat at low-speed just until blended after each addition. (The batter should be smooth and bits of flour should be well incorporated; to rid batter of lumps, stir gently with a rubber spatula.) Stir in extracts.
Pour into a greased and floured 10-inch tube pan or in fills approximately 1 1/2 loaf pans. (Use vegetable shortening or butter to grease the pan, getting every nook and cranny covered. Sprinkle a light coating of flour over the greased surface.)
Bake at 300° for 1 hour and 30 minutes or until a long wooden pick inserted in center comes out clean. Cool in pan on a wire rack 10 to 15 minutes. Remove from pan, and cool completely on a wire rack.
Slice the cake. Heat grill and spray with non stick spray. Grill til marks appear. About 2-3 minutes. Grill only one side.
To serve, place cake on plate with grill marks up. Place strawberries on top, add basil threads and top with whip cream or creme fraiche.
Adapted from: myrecipes
Strawberries
2 lb. fresh strawberries, rinsed, hulled, and sliced 1/8 to 1/4 inch thick (about 4 cups)
1 Tbs. granulated sugar
2 tsp. balsamic vinegar
8 to 10 medium fresh basil leaves
Whipped Cream
In a large bowl (or zip lock bag), gently toss the strawberries with the sugar and vinegar (I also added a pinch of freshly ground pepper). Let sit at room temperature until the strawberries have released their juices but are not yet mushy, about 30 minutes to one hour. (Don't let the berries sit for more than 90 minutes, or they'll start to collapse.)
Just before serving, stack the basil leaves on a cutting board and roll them vertically. Using a sharp chef's knife, very thinly slice across the roll to make a fine chiffonade of basil. Top with freshly whipped cream.
Adapted from: Fine cooking