Mini Sweet Corn Fritters
August 14, 2017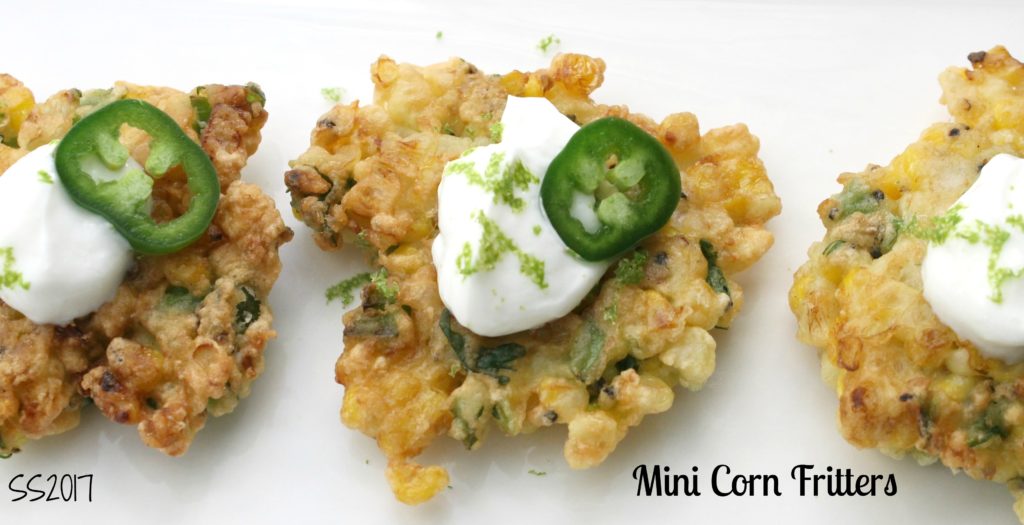 These little gems are the ideal solution for all that seasonal corn that's making its way to your local farmers market. Savory, sweet and a bit of a kick with a crunch with every bite. It's an appetizer. It's a side dish. It's an entrée. Anyway you serve them, you are warned…they are addicting. Don't skip the yogurt sauce.
Mini Sweet Corn Fritters
Makes approximately 14 mini fritters
1 ½ cups of sweet corn kernels (about 2 ears of corn) I lightly roasted them.
2 tablespoons minced onion (or shallot)
½ green bell pepper (You could use Hatch Chiles!! It's the Season)
1 tablespoon chopped cilantro
¼ cup all-purpose flour
½ teaspoon black pepper
½ teaspoon salt
1 egg, beaten
Vegetable, or canola oil for frying
Topping: Greek yogurt or sour cream, lime juice, lime zest to taste. Jalapeño slices optional.
In a medium bowl, mix together all ingredients except for the egg until everything is well combined. Add the egg and mix well.
Heat the oil in a frying pan over medium high heat. Using a small ice cream scoop, spoon the corn mixture into the hot frying pan, flatten it a bit. Cook until the fritters slightly firm and golden brown, for about 2 minutes. Using a metal spatula, flip the fritters and cook for another 2 minutes, or until golden brown. WARNING: These little corns can pop and the hot oil comes with em!!  
Transfer the fritters to a baking sheet lined with paper towels. Serve immediately.
Dollop with a mixture of Greek Yogurt (or sour cream), fresh squeeze of lime, lime zest salt and pepper to taste. Jalapeno slices optional.
Adapted from: Sweet & Savory