Roasted Delicata Squash Salad
October 20, 2017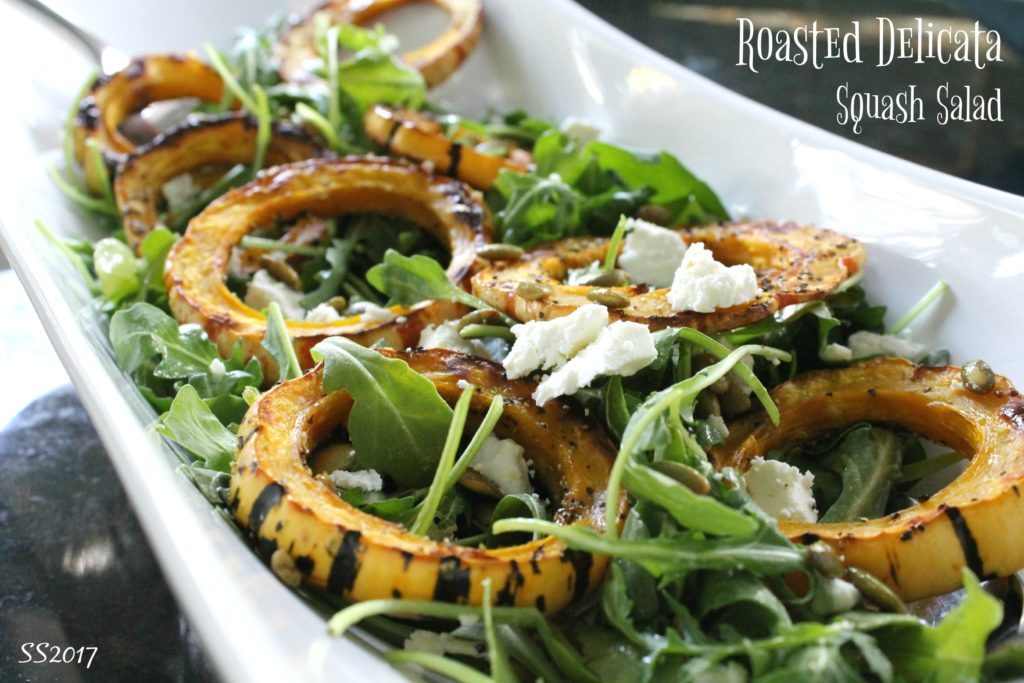 Delicata squash, named for its delicate skin, is the perfect balance between savory and sweet. The thin skin is completely edible and when roasted, becomes caramelized and crunchy. While this dish makes a great fall side to roasted meats, I've combined the squash with the perfect ingredients to create the salad of the season.
Roasted Delicata Squash Salad
Serves 4 large side to 8 small
2 medium delicata squash, approximately 1 and ¼ pounds
1 tablespoon olive oil
Sea salt
4 heaping cups arugula (or mixed baby greens)
⅔ cup pomegranate arils (optional)
⅓ cup raw toasted pepitas
3 to 4 ounces feta cheese, crumbled
Maple-balsamic vinaigrette
2 tablespoons olive oil
1 tablespoon balsamic vinegar
1 teaspoon real maple syrup
½ teaspoon Dijon mustard
freshly ground black pepper
Preheat the oven to 425 degrees. Wash the squash and scrape off any tough bits of skin with a knife. Slice the squash into ½-inch wide rounds. Use a spoon to scoop out the seeds from each round. Drizzle the squash with a generous tablespoon of olive oil and a sprinkle of salt. Use your fingers to lightly coat all surfaces of the squash with olive oil. Bake for about 30 minutes or until the squash is tender and golden, flipping halfway.
In a medium skillet over medium-low heat, toast the pepitas (or place on the pan with the squash for the last 10 minutes of cooking), stirring frequently, until they are fragrant and lightly golden on the edges. Remove from heat.
In a small bowl, whisk together the olive oil, balsamic vinegar, maple syrup and Dijon mustard with a pinch of salt and pepper.
Once the squash has had a few minutes to cool, combine the arugula, pomegranate, pepitas, crumbled feta and squash in a serving bowl. Toss with enough dressing to lightly coat the leaves. Serve immediately.
Adapted from: Cookie and Kate