Butternut Squash Hummus
November 4, 2017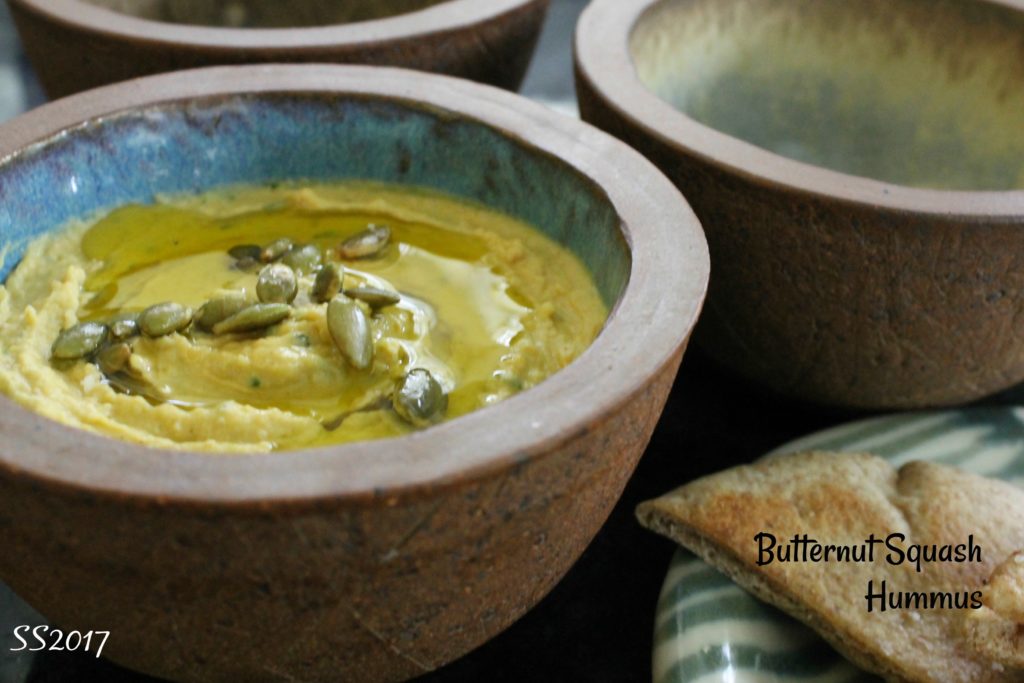 Hummus is a healthy snack and the ideal dip to have on hand. Creamy, smokey, and a bit sweet…..perfect for fall entertaining.
Butternut Squash Hummus
Makes: 2 1/4 cups
1 cup cubed butternut squash
4 cloves garlic, skin on
2 cloves of garlic, peeled and minced
1 lemon, juiced
1 15-ounce can chickpeas, lightly rinsed and drained
1/3 cup tahini
3-4 Tbsp olive oil, plus more for roasting garlic
Sea salt and pepper to taste
1/2 cup fresh parsley, chopped
1/4 tsp ground cinnamon
1/2 tsp ground cumin
optional: 1/4 tsp smoked paprika, for garnish
Serve with:
Whole-wheat pita chips
Sliced carrots
Preheat oven to 400 degrees.
Add cubed butternut squash and 4 unpeeled garlic cloves to a baking sheet and drizzle with 1 Tbsp olive oil and a pinch each salt and pepper. Toss to combine.
Bake for 15-20 minutes, or until all squash is fork tender and the garlic is golden brown. Let cool 5 minutes.
Peel roasted garlic and add to food processor or blender, along with squash, 4 cloves fresh minced garlic, lemon juice, chickpeas, tahini, olive oil, salt, pepper, parsley, cinnamon and cumin.
Purée until creamy and smooth, scraping down sides as needed and adding more olive oil or a touch of water if it's too thick.
Taste and adjust seasonings. Then serve immediately with pita chips and vegetables of choice. Alternatively, refrigerate until fully chilled – about 3-4 hours – for a thicker, creamier dip.
Store leftovers, covered, in the refrigerator up to 4-5 days.
Adapted from: Minimalist Baker