Healthy Chai Banana Pancakes
January 6, 2018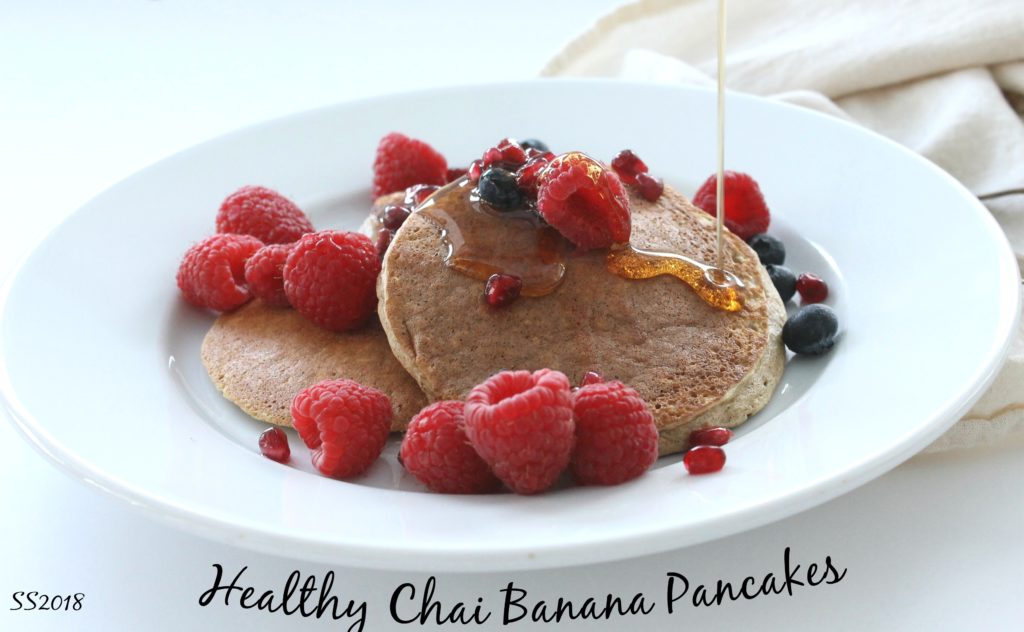 Some mornings you wake up and just NEED pancakes. Perhaps not the healthiest way to start off your day. Until now. No flour. No sugar. Just bananas, eggs, oats and chai spices. These tasty morsels are whipped together in no time and there's no messy prep. All the ingredients are dumped into your mixer and blended for approximately 1 minute. Top with your favorite fruit and real maple syrup. DELICIOUS.
Healthy Chai Banana Pancakes.
serves 2-3
2 whole eggs + 2 egg whites
1 medium/large ripe banana
1 cup old fashioned oats
2 teaspoons vanilla extract
1 teaspoon baking powder
1/2 teaspoon cinnamon
1/2 teaspoon ginger
1/4 teaspoon cardamon
1/4 teaspoon all-spice
1/4 teaspoon salt
maple syrup and fresh fruit, for serving
In a blender, combine the eggs, egg whites, banana, oats, vanilla, baking powder, cinnamon, ginger, cardamon, all-spice, and salt. Blend until the oatmeal is finely ground and the mixture looks like pancake batter, about 30 seconds to 1 minute.
Heat a large skillet or griddle over medium heat and lightly grease the skillet with oil. Pour batter onto a hot pan or griddle. Makes approximately 6 cakes). Cook until bubbles appear on the surface. Using a spatula, gently flip the pancake over and cook the other side for a minute, or until golden. Repeat with the remaining batter. Serve the pancakes with fresh fruit and maple syrup.
Adapted from: Half Baked Harvest