Split Pea Soup
February 3, 2018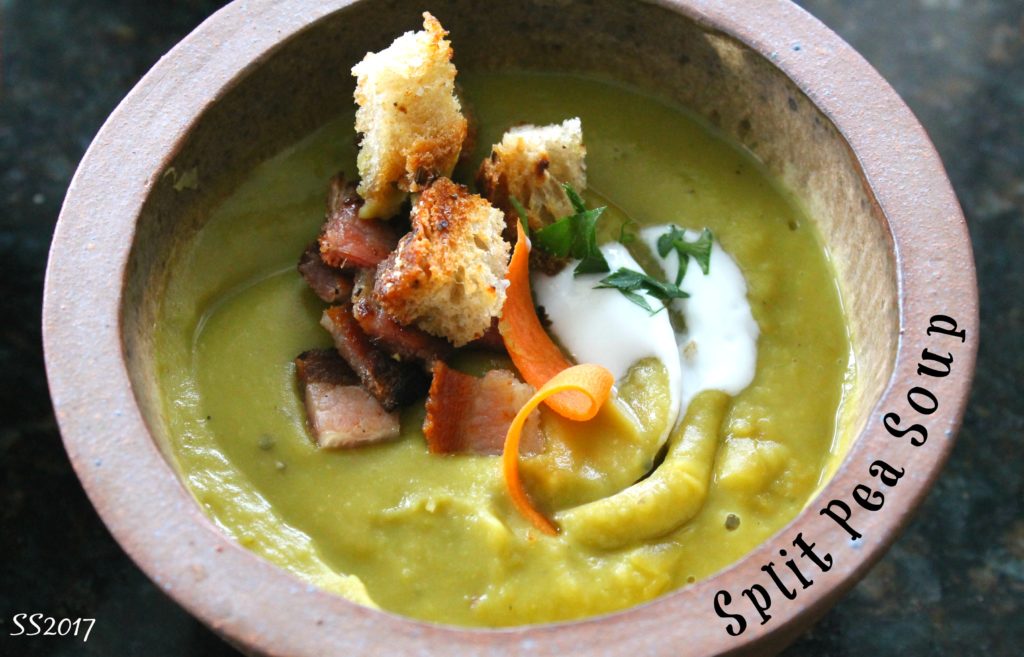 It's hard to believe this blog is 5 years old and this is my first pea soup post. I love pea soup. Honestly, my hesitation in making this soup was the ham bone. I don't typically make ham and I'm not the person who walks away from a party asking for it. This slightly sweet, savory,  smokey pea soup doesn't need the bone. I added the flavor by topping the soup with crispy, thick cut pancetta. This healthy soup could not be easier. A quick saute of leek, carrot, celery and garlic is the base. Add split peas, stock, thyme and a bay leaf to simmer for 50 minutes. Garnish with rye croutons, pancetta, greek yogurt and carrots. A hearty feel good…feel better meal.
Split Pea Soup
Serves 4-6
2 tablespoons olive oil or 1 tablespoon olive oil and 1 tablespoon butter
3 leeks, halved and sliced into ribbons
1 carrot, chopped small
1 large rib celery, chopped
Salt and freshly black pepper
4 cloves garlic, cloves peeled and sliced thin
1 pound dried green split peas, rinsed and picked over
2 quarts vegetable stock or broth.
2 to 3 sprigs of thyme, leaves still on (optional)
1 bay leaf
Garnish: Rye croutons pair well! (simply sauté rye bread cubes with butter on your stove top), chopped crispy pancetta (3 slices, crisp up like you would bacon), a dollop of greek yogurt, parsley, and sliver of carrot.
Heat a 4 to 5-quart heavy pot over medium. Add oil, or oil and butter, and once warm, add leeks, carrots and celery. Season with salt and pepper and cook until softened and beginning to get slightly brown at edges, about 10 minutes. Add garlic and cook two minutes more. Add the dried peas and stir to coat with the vegetables, then add the vegetable stock or broth, thyme, if using, and bay leaf. Increase the heat to bring the mixture to a simmer, then reduce to a low simmer and cook, partially covered, until peas have softened, 50 to 60 minutes. Remove thyme sprigs and bay leaf and season well with salt and pepper.
To puree or not puree….that is the question??! At this point I choose to puree 3/4 of the soup. Make your own decision if you want to leave it chunky.
Do ahead: Split pea soup keeps in the fridge or freezer. You will need to thin the soup with more broth or water to rewarm.
Adapted from: Smitten Kitchen