Shrimp and Sausage Gumbo
February 8, 2018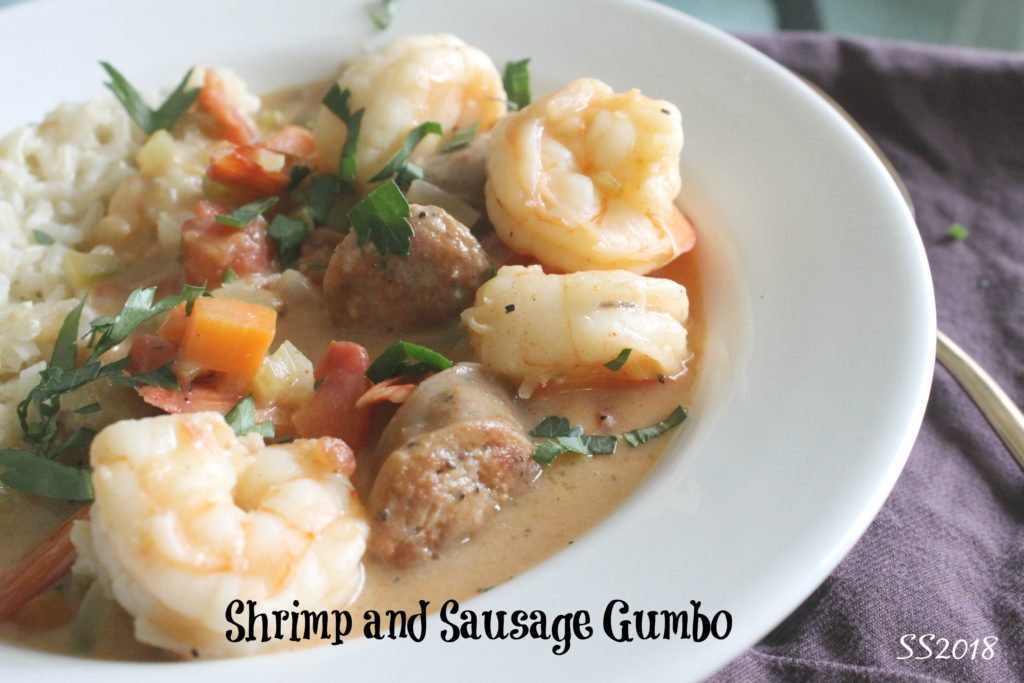 Few things say Mardi Gras like a big bowl of gumbo. Gumbo is a traditional Louisiana dish consisting of a thick stew with meat and seafood served over rice. This version combines Andouille sausage and shrimp to create a gumbo that's smokey-spicy with a Cajun kick. Serve over rice and……….cue the parade!
Shrimp and Sausage Gumbo
Serves 6-8
A couple of tablespoons of olive oil
5 cloves garlic, minced
2 hot peppers like serrano or jalapeño, minced
4 cups mirepoix (onion, carrot, celery)
2 cups additional chopped veggies, optional (okra, green pepper)
3 tablespoons Cajun seasoning mix (I used Emeril's)
1 28-ounce can fire roasted diced tomatoes
3 cups chicken or vegetable broth
12 ounces Andouille sausage, sliced (I browned the sausage)
1 lb. raw tail-off shrimp
Roux:
6 tablespoons butter
1/2 cup flour
2 cups milk or chicken broth
heavy pinch of salt
For serving: brown or white rice. Garnish with parsley or chives.
Heat the oil in a deep pot over medium heat. Add the garlic, hot peppers, mirepoix, and vegetables. Saute for 10 minutes or so until it's all soft and fragrant.
Add the tomatoes, broth, and spices. Bring to a low boil; reduce heat and simmer for an hour or so for the best flavor.
ROUX: In a medium saucepan, melt the butter over medium heat. Add the flour and let it all bubble in the pan for a few minutes. Add the milk or broth a little bit at a time, whisking to incorporate it and make it smooth. Season with salt.
Add the roux to the gumbo pot and stir to combine. Simmer for a little longer over low heat for a while. Stir in the sausage and raw shrimp. When shrimp is pink (fully cooked), stir in a handful of chives and serve over brown rice or white rice. Salt to taste.
I suggest to double the recipe and freeze! The photos show the recipe doubled.
Adapted from: A Pinch Of Yum