Chocolate Panna Cotta with Spiced Pepita Brittle
February 11, 2017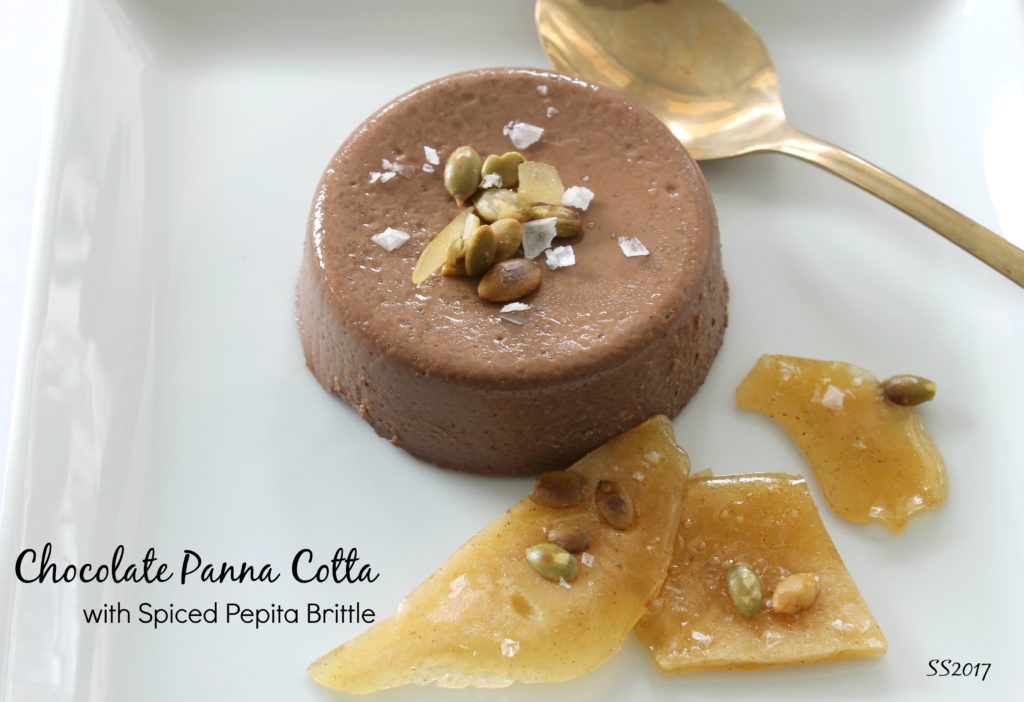 This decadent dessert is simple to make and requires just a few ingredients. It can be made in advance of the big night and promises a creamy and chocolatey end to a romantic Valentine's Day dinner. The pepita brittle complements the panna cotta, offering a smokey and salty side. Chocolate's not your jam? I've also made this version. If you are looking for entree choices check out my Shrimp Capellini post.
Chocolate Panna Cotta with Spiced Pepita Brittle
Serves 5
1¼ cup heavy cream
½ cup 2% milk
½ cup sugar
1 (3.5oz) slightly over 1/2 cup, high quality dark chocolate, roughly chopped
½ tsp pure vanilla extract
2 tsp (1 packet) Knox unflavored gelatin
¼ cup cold water
Pepita Brittle
Vegetable oil or spray
3/4 cup salted roasted pipitas (sunflower seeds)
1/2 teaspoon cinnamon
1/8 teaspoon freshly ground nutmeg
1/2 tablespoon unsalted butter
Sprinkle the gelatin over ¼ cup cold water; allow to gel up for about 10 minutes.
Put the cream, milk, and sugar in a pan. Cook on medium-low heat, stirring constantly, until the mixture boils. Remove from heat and add the chocolate and vanilla extract. Mix until melted.
Add gelatin and mix until dissolved.
Strain the mixture with a fine mesh strainer. Then pour the mixture into individual molds or ramekins. Cover with plastic wrap. Refrigerate for 4 hours to overnight.
Run a knife around the panna cottas and invert onto plates. Garnish with shards, malden salt and whip creme if desired.
Make Ahead: The panna cottas can be refrigerated for up to 4 days. The pepita brittle can be stored in an airtight container for up to 5 days.
Meanwhile, line a baking sheet with a silicone mat or lightly oiled parchment paper. In a small bowl, toss the with the cinnamon and nutmeg. In a medium saucepan, combine the remaining 3/4 cup of sugar with 1/3 cup of water and cook over high heat, swirling the pan gently, until a medium amber caramel forms, about 6-10 minutes. Remove from the heat and swirl in the butter and spices. Pour the brittle onto the prepared baking sheet and spread it in a very thin layer. Add the pepita's quickly as the caramel sets quickly, top with malden salt. Let cool completely, about 20 minutes, then crack it into shards.
Garnish the panna cotta with shards and sprinkle loose pipitas on top. Add additional salt if desired. I also passed a freshly whipped bowl of creme.
Adapted from: FoodandWine