Caesar Salad Deviled Eggs
April 15, 2017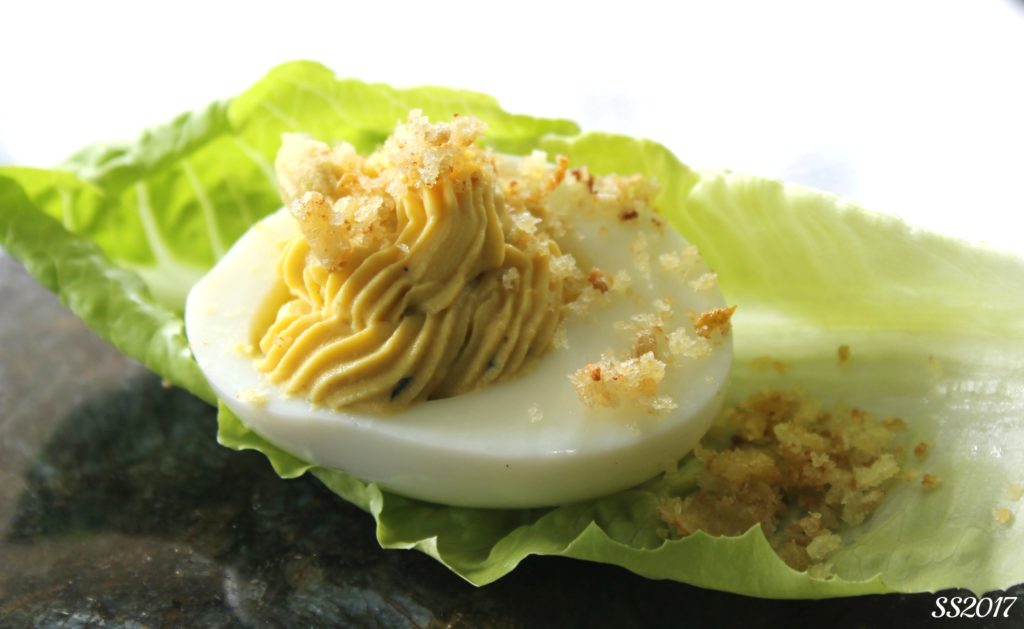 Deviled Eggs. What a throwback! Well, they've made a comeback of sorts. Traditional eggs barely need a recipe. Ingredients from your favorite salad can be used to create these tasty treats. The anchovies add a salty, briny flavor and the breadcrumb topping adds that garlic crouton flavor we love. Last year these eggs were a big hit.   To ensure the eggs will peel easily, make these perfect hard boiled eggs 2-4 days ahead.
Caesar Salad Deviled Eggs
Serves 6 to 12
6 large eggs
12 small romaine lettuce leaves
2 to 3 tablespoons mayo (or greek yogurt )
2 teaspoons smooth Dijon mustard
1/4 teaspoon Worcestershire sauce (optional)
1/2 teaspoon lemon juice
2 tablespoons chopped fresh flat-leaf parsley
Salt and freshly ground black pepper
1 tablespoon olive oil
1 anchovy fillet, minced (optional) (or 1-2 teaspoons of anchovy paste)
1 small clove garlic, minced
1/4 teaspoon grated lemon zest
1/4 cups panko bread crumbs
2 tablespoons freshly grated Parmesan cheese or more to taste
Place the eggs in a saucepan and cover with water. Bring to a boil over high heat. Once water begins to boil, reduce it to medium-low and simmer eggs for exactly 10 minutes. Drain eggs and cover with cold water. Sitting them in ice water will help the eggs chill more quickly.
Arrange 12 small lettuce leaves on a serving platter. Carefully peel the eggs and cut in half lengthwise. Clean the knife in-between each egg for a cleaner cut. Remove the yolks and place them in a small bowl. Arrange the whites on leaves. Mash the yolks with the mayo, Dijon, Worcestershire, lemon juice and 1 tablespoon of the parsley until smooth. Season generously with salt and freshly ground black pepper. Set the filling aside.
In a small skillet, heat the olive oil over medium heat. Add the anchovy and garlic and cook, stirring, until the anchovy begins to dissolve into the oil, about 1 minute. Add the lemon zest and bread crumbs and saute them until golden, about 2 to 3 minutes. Stir in Parmesan and set crumbs aside.
When you're ready to serve the eggs, spoon the yolk mixture back into the cavities of the egg whites. (You could pipe the filling with a star tip.) Sprinkle each egg with the crumb mixture. Make sure to sprinkle the crumbs right before serving to keep them crisp. Garnish with additional chopped parsley and serve.
**To help steady the eggs, you can slice a little piece off the bottom of   the egg. They will sit up straight.
Adapted from: Smitten Kitchen