Ed's Grouper Sandwich
May 11, 2017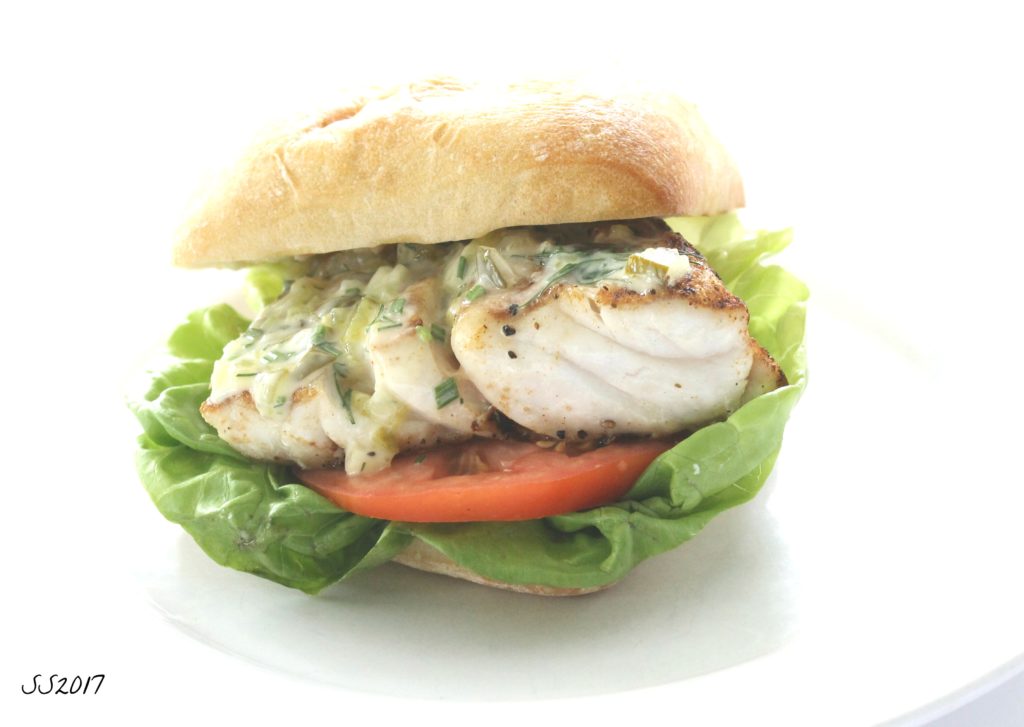 This is one fish story you'll want to hear and…ahem…with no exaggeration, may be the best sandwich you will ever eat. Commonly found in coastal Florida waters, grouper is a firm, meaty and mild tasting fish that holds up well as a sandwich. (Locally, available NOW at Heinen's.) Keep it simple so the grouper shines…pair with a crusty roll, leaf lettuce, a slice of tomato and an easy home-made tartar sauce. This condiment is the perfect topper…..sweet, tangy and tart with just the right amount of dill. Thanks for the inspiration Ed….my number one fan!!!
Ed's Grouper Sandwich 
Serves 4
1 1/4 to 1 1/2 pounds fresh halibut, cut into 4 servings, 4 to 6 ounces each, 1-inch thick  (or any meaty white fish, halibut, cod, etc.)
Vegetable or olive oil, for drizzling
2 teaspoons Old Bay Seasoning
Salt and freshly ground black pepper
2 tablespoons butter, melted
1/2 lemon, juiced
Tartar sauce (This is an important component!!!!!)
1 cup mayonnaise
2 tablespoons sweet pickle relish
1 dill or half-sour pickle, finely chopped
2 tablespoons finely chopped onion
2 tablespoons fresh chopped dill
2 tablespoons fresh chives, chopped
1/2 lemon, juiced
Few drops cayenne pepper sauce, optional
4 rolls        (I love ciabatta rolls so all the yummy tarter fills the nooks and cranny's!)
1 large ripe tomato, sliced
4 leaves green leaf or Boston lettuce
Preheat nonstick or well-seasoned cast iron grill pan over medium high heat. Drizzle Grouper with oil, then season with crab seasoning, salt and pepper. Grill on a hot pan 4 or 5 minutes on each side.
Place melted butter in a small dish and add juice of 1/2 lemon.
Combine all ingredients for the tartar sauce in a small bowl.
Lightly toast buns on grill pan after fish is removed.
To assemble, brush bun bottoms and fish with lemon butter. Top fish with tomato and lettuce and slather the bun tops with tartar sauce.
Serve with home baked sweet potato chips.
Adapted from: Food.com