Kale Salad with Pickled Apple and Creamy Vinaigrette
November 12, 2017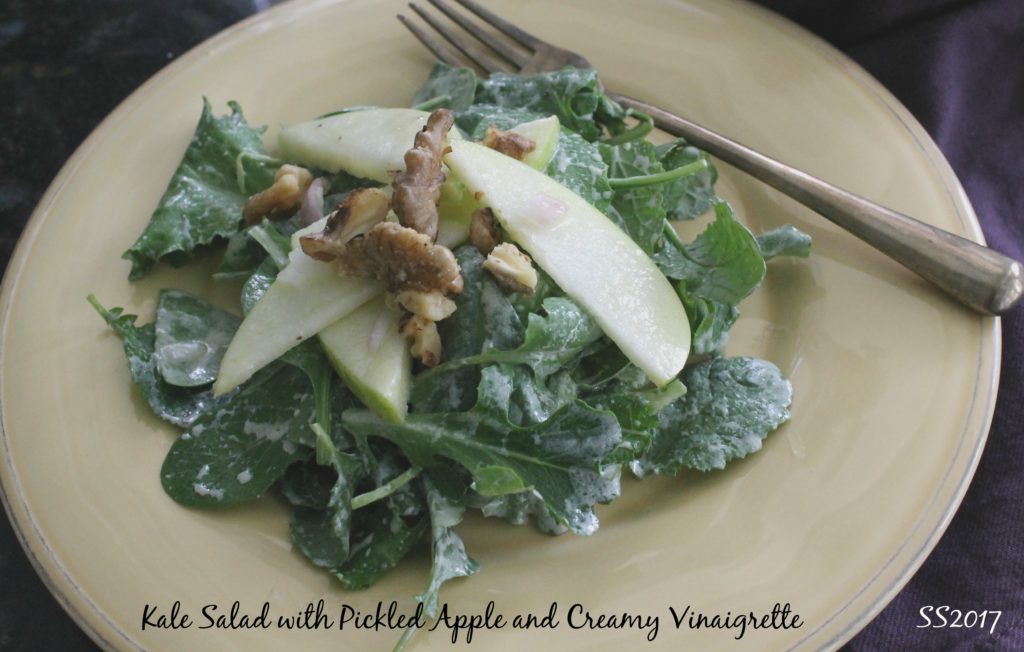 Another winner recipe from Kathy's cooking class and one that will make it to my Thanksgiving table. We all know by now that kale is one of the healthiest foods you can eat. It's full of cancer fighting antioxidants, powerful phytonutrients and heart healthy fiber. However, most kale types tend to be a bit bitter in flavor. Curly Kale is probably the most recognizable, dark green or purple in color, with tight ruffled leaves and has a peppery and bitter quality. Lacinato (Dinosaur) kale has slightly wrinkled blue-green leaves, with a firm texture. It's a bit sweeter, earthy with a nutty quality, but still a little bitter. BABY kale is quite the opposite, tender and mild and what makes this salad stand out. (For the fussier eater, this kale can be passed as a leafy green!) This salad couldn't be simpler….it's just baby kale, apples tossed in a creamy vinaigrette, and topped with toasted walnuts. The vinaigrette (sweet with a bit of tang) is DELICIOUS and showcases those yummy fall ingredients. Additional Thanksgiving recipes: Roasted Butternut Squash Salad, Roasted Cauliflower with Crunch butter and Pickled Peppers, Maple Roasted Carrot Salad, Butternut Squash Soup, Pear Almond Tart, ohhh and don't forget the Brandy Alexander's!
Kale Salad withPickled Apple and Creamy Vinaigrette
Quick-Pickled Apple
2 teaspoons finely minced shallot
2 teaspoons cider vinegar
1/8 teaspoon salt
2 teaspoons olive oil
2 teaspoons lemon juice
1 tart, crisp apple
Place the shallot into a mixing bowl, cover with vinegar and add the salt and set aside for 5 minutes. Quarter the apple and slice into 1/8 inch thick pieces. Toss to coat the apples with the dressing and let sit for about 30 minutes. This technique allows you to cut the apples and hour or longer before you assemble the salad. 
Vinaigrette
2 tablespoons finely minced shallot
3 tablespoons cider vinegar
3/4 teaspoon salt
1/4 teaspoon ground black pepper
1/2 teaspoon sugar
3 tablespoons Crème fraîche or sour cream
2 teaspoons strong Dijon mustard
1 tablespoon lemon juice
1/3 cup olive oil
Mince the shallot and cover with vinegar while you get the other ingredients ready. Add everything into the same bowl and mix, lastly add the olive oil and whisk to emulsify.
Kale Salad
1 to 1 and 1/2 bunches kale, washed and dried
1/4 teaspoon flaky salt
1/4 teaspoon ground black pepper
A handful of toasted walnuts.
Wash and dry the kale. Tear or cut into 1 to 2 inch pieces. Add the kale to a large bowl, toss with about two-thirds of the vinaigrette (careful not to overdress), add the apples and walnuts.
Adapted from: Kathy Harrison's cooking class.